808PW 8" Reversible Jaw, Extra Wide Adjustable Wrench
The CHANNELLOCK® 808PW reversible jaw, extra wide adjustable wrench features an additional pipe wrench jaw option making these strong and reliable wrenches more versatile than ever. The reversible jaw makes simple work on bolts and fasteners as well as on round stock. The self-gripping angled teeth design grip pipe and rounded fasteners tight the first time, every time. With a 4 thread knurl & non-protruding jaws, the 808PW provides greater capacity while improving performance in confined spaces with its minimal head width. Constructed with chrome vanadium steel for durability.
Made to CHANNELLOCK® specifications in Spain
| | | |
| --- | --- | --- |
| Overall Length | 8.21in. | 208.53mm |
| Joint Thickness | 0.55in. | 13.97mm |
| Jaw Capacity | 1.34in. | 34.04mm |
| Joint Width | 2.45in. | 62.23mm |
| Weight | 0.61lbs | 276.69g |
WARNING: This product can expose you to chemicals including nickel, lead, and chromium which are known to the state of California to cause cancer and birth defects or other reproductive harm.
For more information go to www.P65Warnings.ca.gov.
Benefits and Features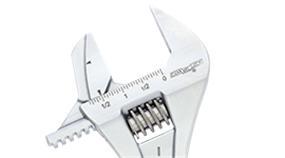 Precise Jaw Design
Precise jaw design grips tight the first time, every time
Measurement Scales
Measurement scales (in. on front mm. on reverse) are handy for sizing nuts, pipe and tube diameters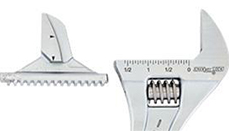 Reversible Jaw
For work on bolts and round stock
Jaw Capacity
Greater jaw capacity supports larger nuts and bolts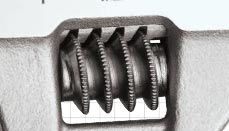 Adjustable
4-thread knurl & non-protruding jaws provide greater capacity; minimal head width improves performance in confined spaces
Angled Teeth
New reversible jaw grips tight onto pipes and rounded fasteners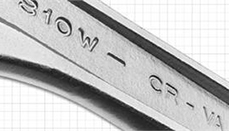 Chrome Vanadium
Chrome Vanadium steel construction