The health and safety of everyone at Channellock is extremely important to us. 
Read about our COVID-19 response here
.

First Responders
"The new spring lock makes it my favorite tool."
Mindy Feldheim
Firefighter
The Tools in Every First Responder's Toolbox
86 9" Rescue Tool
As a first responder, your job requires tools that are reliable and versatile. The CHANNELLOCK® Rescue Tool pries open windows and doors, cuts wires and cables easily, shuts off gas safety valves and loosens hose couplings. The new design of the 86 incorporates our innovative XLT™ JOINT, which requires considerably less force to cut than traditional high leverage designs, as well as the spring and lock feature allowing for easy one-hand operation in high-stress situations. U.S. Patent No. 8,065,939. Made in the USA.
View Entire Product Line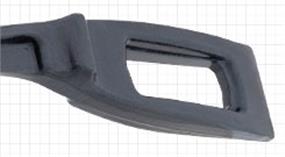 Gas Valve Safety And Pry Bar
Shuts off gas safety valves and pries open windows and doors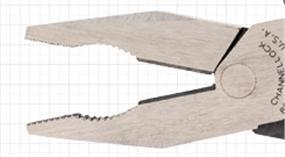 Unique Jaw Design
Jaw design accommodates many shapes and provides maximum grip
Lock
Allows for quick storage in the bunker pocket
For When Life is on the Line.
"My job is about saving lives and the lives of my men. We need a tool that will stand up."
911 9.5" Cable Cutting Pliers
CHANNELLOCK® Cutting Pliers are earning a reputation as reliable, hardworking tools with superior cutting edge life. The CHANNELLOCK® Cable Cutter cuts up to 4/0 aluminum and 2/0 copper; it is not intended for steel or ACSR use.
Made in the USA
View Entire Product Line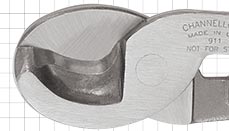 Aluminum/Copper Cutting Ability
Cuts up to 4/0 aluminum and 2/0 copper
Usage
Not for steel or ACSR
Site Hardened Cutting Edges
Site hardened cutting edges shear through soft metal wires and cables
Your job is too important to use anything else.
"It's critical that I work with good tools that are durable and reliable—they also need to be lightweight and strong."

369CB 9.5" XLT™ Round Nose Linemen's Pliers
CHANNELLOCK® revolutionized linemen's pliers with the added benefit of Xtreme Leverage Technology (XLT™). XLT™ positions the rivet closer to the cutting edge so considerably less force is required to cut than other high leverage designs. The combination of XLT™ and laser heat-treated cutting edges makes this tool a must-have for any toolbox.
Made in the USA
View Entire Product Line
XLT™
XLT™ Xtreme Leverage Technology means considerably less force required to cut than traditional high leverage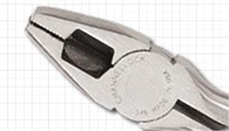 Nose Design
Round nose design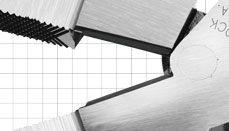 Knife-and-Anvil Cutting Edge
Precision machined knife-and-anvil style cutting edges to ensure perfect mating and superior cutting edge life